About Cathal
Cathal has over 10 years of study and experience gained in the field of physiotherapy. He has significant interests in sports injuries and expertise in persistent pain, long term chronic pain and injuries and injury prevention strategies. He is eager to translate his knowledge of research into the clinic for the patients benefit and wellbeing. Cathal is keen to assess your movement patterns that occur in the body with regards how pain translates to the area.
Cathal has worked with small and large business and companies implementing strategies, workstation set ups, visual display units, and ergonomics assessments helping staff and members feel comfortable, pain free and happy in their working environment.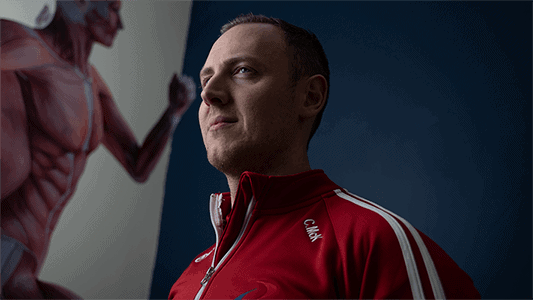 Our Specialties
Core Physio specialises in looking at the body as one while finding the connections causing pain. Patients who present with symptoms will be analysed through movement and testing where the overall cause can be explored and treated. This will allow us assess any underlying factors contributing to the injury and to diagnose a solution. We engage in continual evidence-based education programmes in order to remain at the top of our profession.
We provide top-class treatment leading to a high quality personally tailored rehabilitation programme fixing all ailments. We focus on the preventing re-occurrence of injury with education to our patients as to why the injury, pains or discomfort occurred and how to prevent future incidents.
Laser Therapy
Low level laser therapy (LLLT) uses low powered LED wavelength creating biochemical change within cells.
This targets the site of injury to promote healing, remodelling and reduce inflammation, reduces oedema, Target nerve areas affected by injury and generate a stimulus. Relax contracted muscle fibres and reduce tenderness. An evidence Based Sports Medicine treatment.
Areas low level laser therapy can be used:
Muscle strains/tears
Ligament/tendon sprains
Soft tissue damage
Nerve damage
Trapped nerve
Arthritis
Plantar Fasciitis
Post op
Manipulations
Manipulation is synonymous with Grade V style thrust It is normally aimed at one or more 'target' synovial joints with the aim of achieving a therapeutic effect. When a joint manipulation is performed, the applied force separates the articular surfaces of the joint, the capsule and intra-articular tissues, creating a reduction in pressure within the joint cavity.
The effects of manipulatiosn:
Relief of musculoskeletal pain
Unlocks joints, e.g. stiff neck/acute back sprains
Improves joint range of motion
Mobilisations
Mobilisation is the graded forces to move a joint in a desired direction specific to the capsule of the joint itself. Gliding of the joint is usually used to improve motion and normalise joint function. Joint mobilisations can also have the added benefit of controlling pain.
Any joint that is lacking sufficient motion may be mobilised. When a joint's mobility is limited, the structure and function of the region change. Cartilage can often start to decrease within the joint, and other joints then begin to move compensating for the stiff joint. This can often lead to muscles surrounding a stiff joint beginning to lose their ability to contract and relax sufficiently and become tight.
Benefits of Joint Mobilisation include:
Improved joint mobility
Decreased muscle spasms & tension
Increased freedom of movement
Decreased pain
Myofascial soft tissue release
Myofascial Release involves a hands-on technique where applying sustained pressure into the connective tissue restrictions, eliminating pain and restoring motion. This time element allows the viscous flow and the piezoelectric phenomenon: a low load pressure applied so the fascia can elongate.
Any trauma, inflammatory responses, and/or surgical procedures create restrictions that can need myofascial techniques. Each treatment is performed directly onto skin without oils, creams or machinery. This will enables the physiotherapist to accurately detect fascial restrictions and apply the appropriate amount of sustained pressure to facilitate release of the fascia.